PB Energy Storage Services, Inc.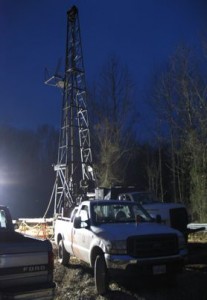 AAI has been involved with nearly all phases of the design and construction of an underground gas storage cavern located near Huntington, West Virginia.  The overall project is being undertaken by PB Energy Storage Services, Inc., of Houston, Texas.  AAI first became involved with the project in 2005 through cavern siting and waste disposal evaluations.  Subsequent work has involved a variety of engineering and project management tasks including selection and laboratory testing of core samples; development of a geologic model of the cavern horizon; measurement of horizontal in-situ stresses using the Sigra method; numerical modeling of arch- and flat-roof cavern opening alternatives; back-calculation modeling of an adjacent operating cavern; design and specification of roof support systems; evaluation of shaft liner strength requirements; evaluation of roof stability conditions using data from borescopes, roof-bolt pull tests and roof sag measurements; analysis of ventilation requirements; selection of mining contractors; and monthly on-site inspections of mining progress involving review of current ground conditions, and evaluation of contractor performance and safety.   Additional smaller tasks and project updates have resulted in almost daily involvement in some aspect of cavern construction.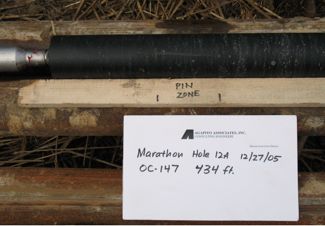 The relationship of blast performance to ground support requirements was one aspect of cavern construction investigated.  Large increases between the designed powder factor and the actual powder factor indicated the drill pattern was not suitable for the rock conditions, resulting in significant blast damage. Having the proper void volume for the fractured swell volume and proper distribution of explosive in an underground blast is critical to reducing blast damage to the perimeter of the excavation.
Anticipated commissioning of the completed cavern is expected to occur in 2009 and the expected lifetime is from 50 to 100 years.