Carbondale, Illinois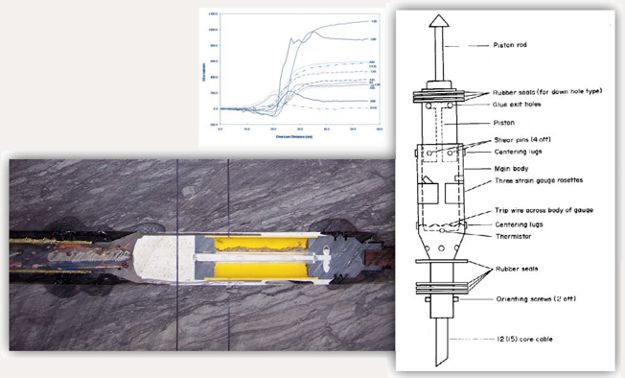 Agapito Associates, Inc. (AAI) was commissioned by Southern Illinois University at Carbondale (SIUC) to measure the three-dimensional in-situ stress state using the overcoring method and CSIRO Hollow Inclusion Stress Cells (HI cells) at three Peabody Energy coal mines:  the Foidel Creek Mine, Twentymile Coal Company, located in Oak Creek, Colorado; the Francisco Mine located in Francisco, Indiana; and the Air Quality Mine located in Vincennes, Indiana.  In-situ stress measurements were required for research on instrumented roof bolts being conducted by SIUC at the mines.
AAI completed the drilling campaign at the Foidel Creek Mine in late 2010, at a single site in the 17 Left Gateroad.  Stress was measured in the "C" Sandstone, 16.4 m deep in the hole at a position approximately 4.8 m above the Wadge coal seam and 15.3 m horizontally from the rib of the gateroad entry.  Rock temperatures were matched with temperature-specific epoxy for bonding the HI Cells to the hole.  Biaxial testing was performed while underground to measure the core's elastic properties.
Stress measurements were completed in mudstone and limestone roof strata at the Air Quality and Francisco mines in early 2011.  Two measurements were attempted and successfully completed at each mine.
All stress measurements were conducted in accordance with International Society for Rock Mechanics (ISRM) procedures.
Three-dimensional in-situ principal stresses were calculated from the overcoring and biaxial data using Stress Programme, Version 1.0 (Environmental Systems and Services).
AAI crews also cored several meters into the roof at each mine for mechanical properties testing.