Agapito Associates, Inc. (AAI) is proud of its staff of dedicated specialists and industry experts. Below is a sample of the latest happenings from within our company.
36th International Conference on Ground Control in Mining
Agapito Associates, Inc. is proud to sponsor the 2:30 PM coffee break on July 25, 2017 at the 36th International Conference on Ground Control in Mining (July 25 – 27, 2017; Morgantown, WV). At the conference, Chris Ross, P.E. will be presenting his paper, "Highwall Mining of Thick, Steeply Dipping Coal – A Case Study in Geotechnical Design and Recovery Optimization". Co-authors of the paper are Dave Conover (AAI) and Jake Baine (Westmoreland Kemmerer).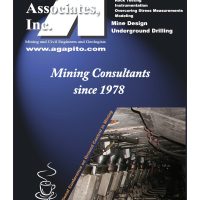 2017 SME News
Agapito Associates, Inc. will be exhibiting at the 2017 SME Annual Conference & Expo, February 19–22, 2017.  Dr. Susan Patton, Tim Ross, and Tom Vandergrift will be in attendance.  Please come visit us at our booth, no. 1237. Click here for more information: http://www.rmcmi.org/events/regional-meetings.
Agapito Associates, Inc.'s Chief Geologist, Vanessa Santos, will be attending the SME's 5th Annual Current Trends in Mining Finance Conference, April 30 through May 3, 2017 held at the Shearman & Sterling Conference Center in Lexington, New York.  She will be presenting Potash, Trona and other industrial minerals – Can technology change the outlook in a low-price environment?  An abstract is provided below:
Potash is still in a challenging environment.  Persistently low prices, decreased demand, and low agricultural commodity prices compound the lack of recovery.  Trona on the other hand, has maintained price stability and stronger markets.  Greenfield projects in both commodities face obstacles for project advancement due to the strength of existing players, high capital investment, and long lead times.  They are adjusting investment, scaling production, and receiving capital from outside the traditional arena.  Solution mining has become the default mining method for potash and trona, and existing operators are looking at it as well.  Efficiencies exist in the planning and implementation of these projects, but lower production demands a sharp pencil to control costs.
Dr. Susan Patton, PE has been elected 2016 incoming Chair for the SME Western Plateau section.  Vanessa Santos, Chief Geologist, P.Eng. is an acting Board Member. 
PDAC 2017
Dr. Mike Hardy, Leo Gilbride, and Tim Ross will be attending the PDAC 2017 convention, March 5–8, 2017 at the Metro Toronto Convention Centre, Toronto, Canada.
Leo Gilbride, Professional Engineer of Saskatchewan
Leo J. Gilbride, Principal and Vice President, was approved as a Professional Engineer and member of the Association of Professional Engineers and Geoscientists of Saskatchewan (APEGS) in December 2015 (Member No. 34546).  Mr. Gilbride is granted Permission to Consult in Saskatchewan and serves as an Official Representative listed on Agapito Associates, Inc.'s Saskatchewan Certificate of Authorization.
AAI Scholarship Fund
In 2007,  Agapito Associates, Inc. established a scholarship fund for undergraduate students  pursuing a degree in Mining Engineering at the Colorado School of Mines. It is a 3-year award that is funded in the amount of $2000 per year and is awarded to a US Citizen maintaining a 3.0 GPA and based on financial need and merit.
Our current Scholar is Kevin Moran of Bonita, California.  Kevin was first awarded in 2013-2014, 2nd year was 2014-2015, 3rd and final year 2015-2016. Kevin is scheduled to graduate this year.
Previous Scholars are:
2008-2010: Amanda Garcia – graduated in 2011
2011-2013: Chelsea Pomeroy – graduated in 2014 with a BS in Mining Engineering. Currently a Graduate Student in Mining Engineering, scheduled to graduate in 2017.
The next award period will be in fall 2016-2017. To apply for this scholarship, apply to the Director of Financial Aid at the Colorado School of Mines. The fund is administered by the CSM Foundation, Inc.  CSM Foundation Corporate Scholarships
CSM Industry Advisory Council
Gary Skaggs is joining the Colorado School of Mines (CSM) Industry Advisory Council on May 5, 2016.
Have questions? Contact our staff for answers.