With our geologic field services, testing facility, and experienced mining engineers, geologists and technical staff, Agapito Associates, Inc. (AAI) can provide a seamless interface from sample collection and testing to design and construction management.
Founding of the Company
Agapito Associates, Inc. was founded in 1978 by Jose Agapito and Michael Hardy, colleagues from a previous 6-year working relationship at Golder Associates. The corporate office was opened in Grand Junction, Colorado, where the firm's headquarters still remain. The initial focus was on rock mechanics, mine planning, and site characterization in the oil shale, coal, and nuclear waste industries. AAI's major clients in the start-up years included Exxon Company U.S.A., Occidental Shale Oil Company, Rockwell International Corporation and Atlantic Richfield Corporation. Even at this early stage, AAI maintained a crew for in-situ stress measurements and instrumentation installation.
Nuclear Waste Services Expansion
The decade of the 1980s launched significant growth in staff, expertise, and clientele. In October of 1984, a branch office was established in the Los Angeles area to service a contract with the Army Corp of Engineers. The California facility marked the development of significant geographic and service diversification. Corporate-wide expertise in geotechnical numerical modeling and studies in solution mining were added to the firm's repertoire of services. Projects in the mid- to late-1980s included the continuation of significant consulting for Rockwell International Corporation and saw the addition of numerous new clients, including the U.S. Bureau of Mines, the Army Core of Engineers, Utah Power & Light, and Asamera Minerals, Inc. In 1987, the California office was closed when support to the Army Corp of Engineers was completed.
Solution Mining Expansion
Consulting services to Sandia National Laboratories dominated the decade of the 1990s. A branch office was established in Las Vegas, Nevada, in the fall of 1994 to support activities at the Nevada Test Site Nuclear Waste Repository.  The new location was home to five employees by year-end. The decade ended with major projects for Mountain Coal Co., OCI, and American Soda.  Additional staff brought increased expertise in mine planning, ground support, solution mining, geomechanical and resource modeling, and ventilation. With the completion of services to Sandia National Laboratories, the Las Vegas office was subsequently closed in 1997.
International Growth
The decade of 2000–2010 saw unprecedented growth in revenues, clientele, staff size, and diversity in expertise. Revenues increased nearly fourfold, clients served per year grew from 45 to a high of 80, and staff size doubled from 14 to the current 28. Sales to the international arena and the eastern United States increased to become a significant market share. The first half of the decade saw the addition of two office locations, bringing new clients and new geographic markets. The opening of a branch office in the Chicago area in the year 2000 added expertise in stone mine planning and design, underground mine stability, blasting, subsidence evaluation, forensic investigations, mine water issues, ventilation, and shaft design and rehabilitation. In July 2004, AAI purchased the Mining Consulting Group of NSA Geotechnical Services, Inc. and established an additional branch office in Golden, Colorado. This acquisition immediately added three engineers and substantial expertise in highwall and surface mining, ground control, and mine operations management.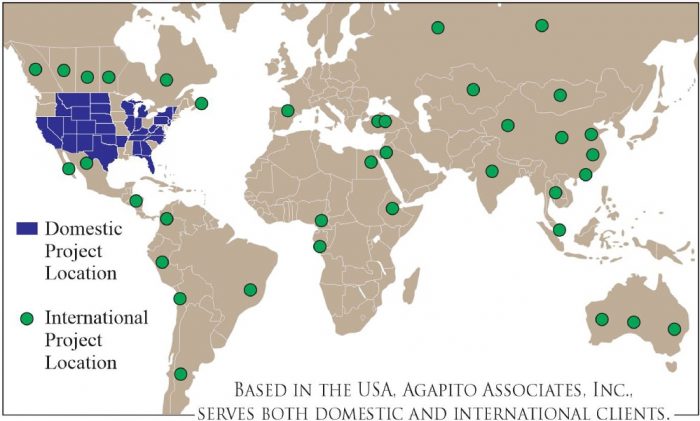 Today
The decade was ushered out with continued growth. The professional staff was augmented with a wealth of expertise from experienced engineers, adding or strengthening capabilities in the management of multi-mine complexes, geological engineering, geophysics, two- and three-dimensional computer modeling, ventilation, and mine economics. Significant upgrades were made to computer modeling capabilities, rock sample testing equipment, and field services. The rock mechanics laboratory and field equipment facility in Grand Junction was doubled in size and experienced field personnel were added to the team. Among the major clients serviced during this period were Baja Mining Co., PB Energy, Rio Tinto, New Elk Coal Company, and Trapper Mining.
Detailed information on AAI's capabilities, highly qualified staff, and past projects is available throughout the website. With our testing facility, experienced geotechnical and mining engineers, geologists and technical staff, we can provide a seamless interface from sample collection and testing to design and construction management.
Have questions? Contact our staff for answers.