Subsurface Minerals Permit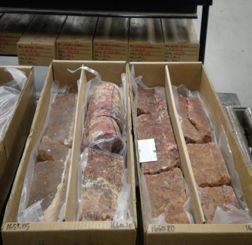 On July 12, 2010, Western Potash filed with the Toronto Stock Exchange (TSX) a 43-101 report titled "Technical Report Concerning Mineral Resource Estimates, Subsurface Mineral Permits KP 408 and KP 409, Saskatchewan" prepared by Agapito Associates, Inc. (AAI).
The permit area is approximately 50 km southeast of the Mosaic Belle Plaine potash solution mining operation and contains similar quality potash beds to those successfully solution mined by Mosaic and its predecessors for over 30 years. In 2009-2010, Western Potash performed a confirm-ation drilling and testing program to confirm the potash resource to support a 2-million-tons-per-year potash operation. AAI prepared NI 43-101 compliant Technical Reports covering the first four wells of the drilling program and later the entire nine-well program.   AAI was selected based on its expertise in solution mining.
The permit area covers approximately 157,000 acres and is intersected by nine core holes. The property has been surveyed using 2D and 3D seismic and a resource estimate was prepared using the assay results from the nine cores holes.  The identified combined Measured and Indicated Resource of 174 million tonnes (Mt) of recoverable potassium chloride (KCl) is sufficient to support a mine plant producing KCl at a rate of 3 Mt per year for more than 55 years.  Additionally, AAI completed triaxial and uniaxial compressive strength tests to determine mechanical properties of rock samples from the project.