American Soda, L.L.P.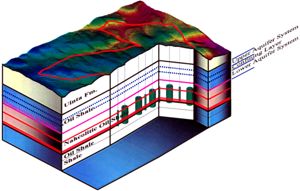 Agapito Associates, Inc. has been actively involved with the American Soda Project from 1997 through 2003. Major projects include:
Stability assessment of pilot test cavern for permit application
Design of subsurface solution mining plan
Design of solution well completion
Support in permit application to BLM, EPA, and affected counties
Core drilling (7 core holes), core logging, assay and resource/reserve evaluation of bankable document
Field support during drilling of 26 production wells
Well field layout
Design of pads and roads
Pilot test plan development
Groundwater monitoring plan
Subsurface monitoring plan
Subsidence assessment and monitoring plan
Review of well field performance
Development of heat and mass balance model for prediction of well performance
American Soda, L.L.P. operated a solution mine at the Yankee Gulch lease and processes the nahcolite to produce both soda ash and sodium bicarbonate.  AAI has been involved in characterization of the lease, design of well field layout, planning and interpretation of test mining, and support for permitting the project.  Six deep core holes were drilled; lithologic and structural logging of core, and laboratory testing of core at elevated temperatures completed; stability of proposed caverns/leach zones analyzed; and production well completion designs and well pad permits prepared.  The project completed an Environmental Impact Statement with start of construction of the commercial well field and plant slated for later in 1999.