Piceance Basin, Colorado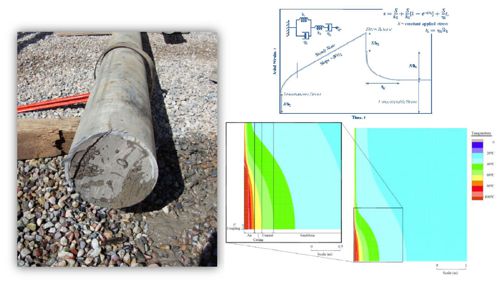 American Shale Oil Corporation (AMSO) holds one of three preference right leases granted in 2007 by the U. S. Bureau of Land Management for the research, design, and development of the Piceance Basin oil shale resource in Colorado.   AMSO with 50%-partner energy-major Total are invested in the development of an innovative and low-impact in-situ retorting process involving a proprietary conduction-convection-reflux process to maximize oil yield from the clay-rich (illitic) Garden Gulch member below the traditional Mahogany Zone.  Pilot-scale testing is planned in 2011.
Since 2008, Agapito Associates, Inc. (AAI) has been a key technical participant in the project providing geomechanical analysis and laboratory testing.  AAI developed best-estimate properties for the little-known illitic oil shale and applied FLAC (finite difference code by Itasca) to simulate rock mass thermo-mechanical response to multiple well and retort cavern concepts.
AAI, in cooperation with AMSO, developed a geomechanical testing program to validate thermal, mechanical, and time-dependent properties of the illitic oil shale.  Ambient temperature tests were conducted at AAI's Grand Junction testing facility.  Elevated temperature testing was completed at New England Research in Vermont and MetaRock, Inc. in Texas.  Testing revealed complex time-, temperature-, and grade-dependent behavior, and significant mechanical and thermal anisotropy relative to bedding.
As of 2011, AAI is engaged in the development and calibration of a geomechanical constitutive model intended for coupling with a comprehensive multi-physics process model being developed by others.  Modification of FLAC's built-in Burger-Creep model shows promise for simulating first-order characteristics and providing an initial understanding of thermal fracturing around the retort.