Agapito Associates, Inc. was commissioned in 2017 to perform work for an underground storage cavern project in Robinson, Illinois. The facility is used to store butane and has a capacity of 1.4 million barrels. Like the West Virginia cavern, it is constructed in shale, without a water curtain. Depth to the cavern roof is 620 ft. Excavation dimensions are similar to the West Virginia cavern and are nominally 28 ft high by 20 ft wide.
In addition to the geotechnical and engineering management tasks Agapito normally provides to storage cavern projects, the Robinson cavern afforded Agapito an opportunity to develop a unique cavern layout for directing product and excess water to the production wells, while minimizing vapor space. This in turn allowed for more of the excavated volume to be used for gas storage.
Agapito was involved in the project from its conception through commissioning (2014 to 2017).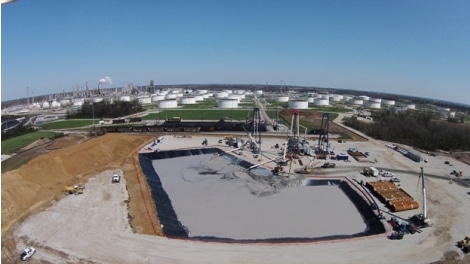 white text