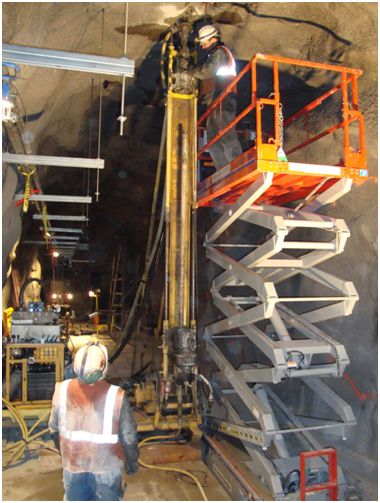 Parsons Corporation-Colorado Department of Transportation
In 2010, Agapito Associates, Inc. (AAI) provided support to Parsons Corporation in preparing a plan to rehabilitate cross passage 5 in the Colorado Department of Transportation's Hanging Lake Tunnel near Glenwood Springs, Colorado.  As part of that evaluation, AAI mobilized core-drilling equipment to characterize the ground conditions behind the shotecrete lining and to provide a basis for design of the remediation of the cross passage.  A total of 15 continuous core holes were drilled horizontally into the rib, at +45° into the spring line, and vertically into the roof of the tunnel cross passage.  The coring tools used were NW conventional, 2.06-inch diameter core, and 2.985-inch diameter borehole.  All drilling was completed with zero discharge of drilling fluids.
A summary report was prepared which included full descriptions of the core, videologs and recommendations for rehabilitation of the tunnel.
After rehabilitation with PUR grout injection and rock bolting was completed by a contractor, AAI conducted additional core drilling to confirm the effectiveness of the grouting.  Additionally, AAI installed RMT Telltales in the confirmation drill holes to measure tunnel convergence and monitor the stability of the tunnel.