Agapito Associates, Inc. (AAI) has many diverse geologic capabilities spanning basic drilling management and logging to detailed integration of field mapping and hazard analysis.
All geologic programs are uniquely tailored to the client's specific needs and criterion.  AAI has the experience and expertise to design exploration programs, manage drilling programs, provide geologists to log core and coordinate data collection including down-hole logging, water sampling and gas monitoring, complete field mapping, complete geophysical analysis and structural interpretations, develop geologic models, and estimate resource and reserves for reporting through the national stock exchanges such as the Toronto Stock Exchange with NI 43-101 compliant reports.  AAI geologists and engineers have access to the latest state-of-the-art resource modeling software with trained geological engineers capable of integrating geologic field data into reserves/resources for potential evaluation or into detailed mine layout and designs and for feasibility studies.  AAI is uniquely qualified for detailed geotechnical work with an in-house geotechnical laboratory and testing facility.  AAI's field crew maintains three drilling rigs capable of both surface and underground coring for resource confirmation and installation of ground monitoring instrumentation.  Specialities include:
Sedimentary deposits including coal, trona, potash, copper, oil shale, phosphate, limestone, gold, molybdenum, and uranium
Management of exploration programs
Selection of drilling contractors, specifications, and cost analysis
Core logging
Management of down-hole geophysical logging
Field/quarry mapping
Coordination of core analysis
Structural and formation analysis
Geotechnical testing
Geologic modeling
Resource/reserve calculations
Core drilling for resource confirmation and instrumentation installation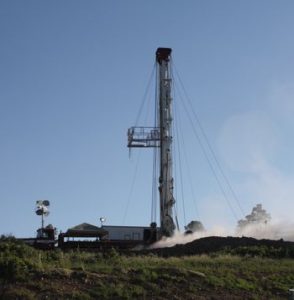 Have questions? Contact our technical staff for answers.
Project Summaries & Publications: Geology